Inorg. Chem., 2016, 55 (5), pp 2227–2239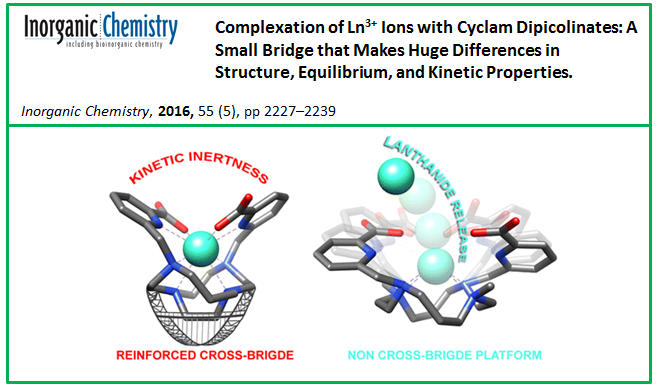 Complexation of Ln3+ Ions with Cyclam Dipicolinates: A Small Bridge that Makes Huge Differences in Structure, Equilibrium, and Kinetic Properties.
Aurora Rodríguez-Rodríguez, Martín Regueiro-Figueroa, David Esteban-Gómez, Raphaël Tripier, Gyula Tircsó, Ferenc Krisztián Kálmán, Attila Csaba Bényei Imre Tóth, Andrés de Blas, Teresa Rodríguez-Blas, and Carlos Platas-Iglesias,
Inorganic Chemistry, 2016, 55 (5), pp 2227–2239, DOI: 10.1021/acs.inorgchem.5b02627.
Les propriétés de complexation de deux ligands macrocycliques, à base d'une plateforme cyclam fonctionnalisée par des bras picolinate, avec les ions lanthanide ont été étudiées. Les résultats montrent l'étonnante inertie, même en milieux drastiques, des complexes de lanthanides du cb-te2pa, un cyclam dipicolinate renforcé.