International Journal of Molecular Sciences, 2019,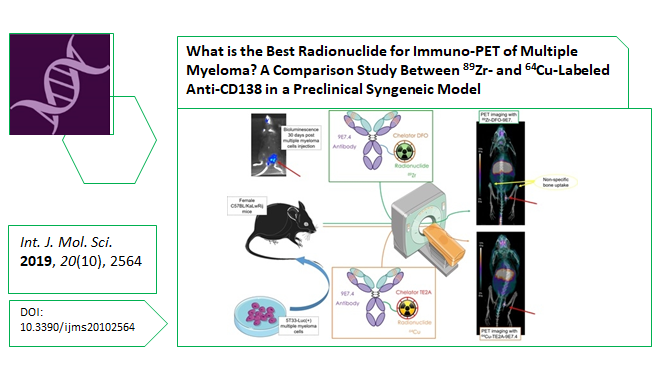 What is the best radionuclide for immuno-PET of multiple myeloma? A
comparison study between 89Zr- and 64Cu-labeled anti-CD138 in a preclinical
syngeneic model.
Bailly, C.; Gouard, S.; Guérard, F.; Chalopin, B.; Carlier, T.; Faivre-Chauvet, A.; Remaud-Le Saëc, P.; Bourgeois, M.; Chouin, N.; Rbah-Vidal, L.; Tripier, R.; Haddad, F.; Kraeber-Bodéré, F.; Bodet-Milin, C.; Chérel, M.
International Journal of Molecular Sciences, 2019,DOI: 10.3390/ijms20102564
Nous avons utilisé un anticorps anti-CD138 murin (9E7.4) radiomarqué au cuivre-64 (64Cu) or zirconium-89 (89Zr) et les avons comparés dans un modèle murin syngénique pour sélectionner les traceurs optimaux pour l'imagerie par TEP MM. Ensuite, le 9E7.4 a été conjugué aux agents chélateurs TE2A-isotiocyanate de benzyle (TE2A) et desferrioxamine (DFO) pour les marquages ​​64Cu et 89Zr, respectivement.