Registration form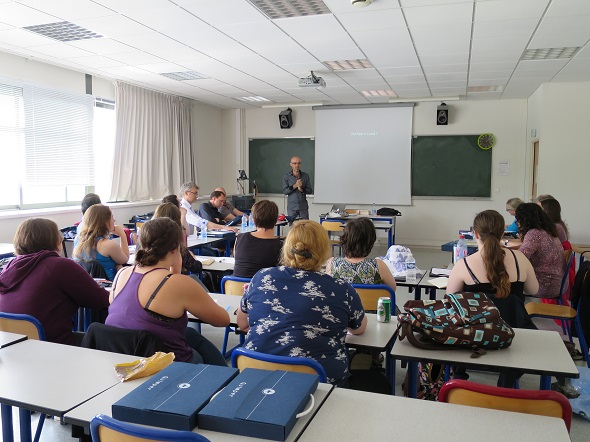 Dr. Ronan Calvez lecturing on Middle Breton language and literature

Who may apply ?
Graduate, postgraduate students as well as university researchers and specialists with an interest in Celtic studies and the Breton language and culture in particular are warmly encouraged to apply. Motivated undergraduate students, non-academics with a foundation in Celtic language or linguistics are also welcome. It is hoped the course will attract a mix of French and English-speaking participants which will contribute to expanding the horizons of all.
No prior knowledge of Breton is required for the level 1 class (see Programme below).
Registration deadline
It would be wise to resiter as soon as possible (see below for contact information).
The final deadline for registration is May 15, 2018 (subject to change).
Registration fees
The total registration cost for this Summer School is only 380 euros per participant!
This covers the following :
- Registration fees for two weeks of intensive language classes and afternoon lectures by leading CRBC specialists on Breton language and culture;
- Daily lunches at the university restaurant (Monday through Friday);
- Field trips and guided visits to the Musée Paul Gauguin in Pont Aven, the fishing village of Doëlan, the Abbey of Landevennec, the port of Concarneau, the historic town of Locronan and the chapels of Kerdevot and Locmaria-an-Hent;
- Bus transportation to and from the University and within the city limits of Quimper.
Lodging
The University of Western Brittany has negotiated highly competitive prices for lodging. To guarantee maximum flexibility, participants are asked to reserve and pay for their rooms directly at the hotels indicated below : Appart'Hôtel (3 stars - 38 euros per night for an individual suite with kitchenette or 19 euros per night for a shared room) and Résidence Colverts (18 euros per night for an individual suite with kitchenette).
Registration form
Lire la suite
Your interlocutor

Dr. Gaëlle LE CORRE

Pôle universitaire Pierre-Jakez Helias
18 Avenue de la Plage des Gueux
29018 QUIMPER
summer-school@univ-brest.fr